Web Filtering

Web filtering becomes a necessity for a company with quality management. Easemon web filter provides a convenient way to invisibly record and control all web activities of employees during office hours.
The phenomenon that employees conduct non-work related activities with the Macs or Windows PCs, such as watching videos, playing online games, visiting inappropriate websites partially accounts for low employee productivity. Besides, employees' behaviour of visiting inappropriate websites such as porn sites or Phishing sites may also bring unexpected threats to the company network and property safety.
How Does Easemon Web Filter Work?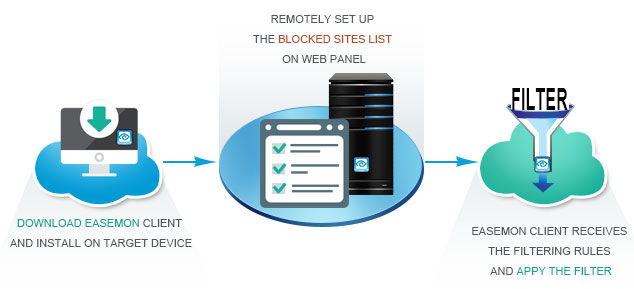 Why Choose Easemon Web Filter?
Easemon web filter has powerful web filtering engines, which can filter websites by preset keywords in URLs, and block all the HTTP and HTTPS websites.

Filter Sites by Preset Keywords
By preset key words (eg., Facebook, Twitter, Amazon, Ebay) in the URLs, the inappropriate URLs will be blocked so that employees cannot visit such sites during office hours.

Block All Websites
All kinds of websites, including HTTPS, can be blocked by Easemon web filter so as to help employers efficiently manage productivity, minimize security problems and other risks.

Send Email Notifications
When employees attempt to visit or access the blocked websites, Easemon web filter sends email notifications to alert you for every preset interval time.
As the easy-to-use, cloud-delivered administration console, Easemon web filter enables users to quickly set up and manage the acceptable use policies for company network, giving users greater control of the organization's Internet usage.
Tags: block website, block websites on Mac and Windows PC, web filter, web filtering
Category: Solutions