Aobo Keylogger for OS X 10.8 Released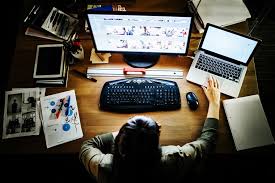 Aobo Keylogger for OS X 10.8 Released
As the ninth major release of OS X, Mac OS X Mountain Lion was released on 25 July 2012. At the same time, Aobo Software announced that Aobo Keylogger supported Mountain Lion thus it will be the first Keylogger for OS X 10.8 Mountain Lion.
Folling Are the New Rolled Out Introduces Gained from iOS:
iCould
The new Mountain Lion system helps users synchronize document changes with any Mac, iPhone, iPad and iPod Touch. In the Document Library, you'll actually now see a real-time list of all your documents stored in iCloud sorted by application.
Notification Center
Make it possible to unite the notifications of built-in and third-party applications all together and user could receive all Push Notifications.
Gatekeeper
This is an entirely new security feature in Mountain Lion which gives you control over the kind of apps that can be installed on your computer. Developers don't have to rely on Mac App Store to distribute Apple identified apps.
Game Center
Work like the one in iOS, Game Center connects you with other game players on Apple devices all around the world and lets you enjoy together.
Sharing
Share Sheets enables users to share links, photos, and videos through Twitter, Flickr, Vimeo, Messages, Mail, AirDrop or customized share applications.
Twitter
Twitter is integrated in OS X Mountain Lion which allows Twitter users to automatically log in Twitter account and post, share, comment links and photos simply and quickly with the Twitter desktop client.
Bypassing GateKepper Methods
Though user can still run third-party apps like Aobo Keylogger for OS X 10.8 on Mountain Lion, Gatekeeper will check Aobo Keylogger for Mac OS X 10.8 at the first time when it launches, and displays a warning as the picture below:

However, here are two easy methods to help you bypass GateKeeper.
Method 1: Hold "Control" and Click "Abk" (Recommended)
Please RIGHT CLICK "Abk" and select "Open" to install. Please click on "Open" when it asks if you are sure to open the file
After install, please use the shortcut key "Ctrl+Alt+A" to bring up the software interface
If you cannot use right click, please hold "Control" key on keyboard and click "Abk". (See image below).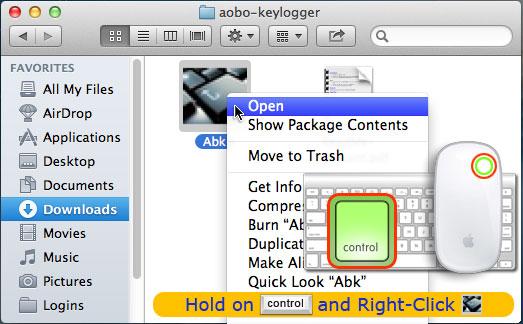 This method is recommended as it's easier to operate and doesn't require admin password.
Method 2: Change Gatekeeper setting
Open "System Preference" – "Security & Privacy" – "General"
Click the small lock icon at the bottom left and enter your admin password
Change "Allow applications downloaded from:" to "Anywhere"
After choosing "Anywhere", you will be able to run the keylogger installer or any other apps you downloaded without trouble.
As one of the Mac software developers, Aobo is dedicated to providing the most valuable, professional Mac/PC monitoring solutions for individuals, families and enterprises. With the extremely easy-to-use interface, extensive functionality, aggressive quality control, and dedicated customer service, software from Aobo is widely used as well as trusted by users from all over the world.
Tags: aobo keylogger for os x 10.8, Aobo mac keylogger, install keylogger on mountain lion, Keylogger for Mac, keylogger for mountain lion
Category: Articles and Tips, News and Events