Increase Employee Productivity with Best Computer Monitoring Software for Business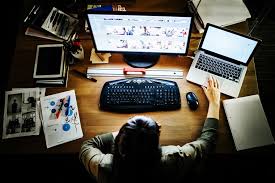 You may have begun to look for the best computer monitoring software for business so as to increase employee productivity. As an employer, maintaining and gradually improving the productivity level of your employer is your core desire. Maybe the best computer monitoring software for business like EaseMon will perform the job for you.
Why Is EaseMon the Best Computer Monitoring Software for Business?
With so many social media platforms like Instagram and Facebook, losing your employees into an unproductive array of black holes is more common than one can imagine. And the saddest part is, no matter what they do, you are the one who has to pay them at the end of the day. And with so many nifty tools out there, blocking sites via a browser setting or from the Mac setting will not get the job done.
The best Mac OS X monitoring software for business such as EaseMon will constantly monitor your employee's Mac operation and will immediately report to you – if your employee is doing something for which he is not employed. You need EaseMon.
EaseMon is the most advanced and most effective computer monitoring software for corporate business that makes your monitoring work as simple as 123. By analyzing the current need of the employers, the developers of EaseMon have integrated all the essential facilities that employers wished to have in a single software program.
All-in-one Solution
Some monitoring software just takes screenshots, while the others send reports regarding the programs that the employees are currently using. That's why employees have to spend money on a bunch of software to ensure perfect worker monitoring. But EaseMon is designed and developed to become the best computer monitoring software for corporate business that will go all in to get the job done. With each license of the software, you will get more than just a product that sends you employee monitoring reports on a regular basis. From what application your workers are using to how many keystrokes have been stroked within the last hour, EaseMon tracks them all. You will also get a detail report on what emails they are checking, writing and a list of their IM messaging. It's like standing right behind them as they are working.
Smooth and Effective
Another problem the employers complains about is that most monitoring software shows a blipping marker on Mac desktop which gets them into trouble with employees and their HRM department. This option also hampers the employee's productivity level as he/she feels insecure in the workplace. But with EaseMon Employee Monitor for Mac, you do not have to worry about such problems, as this software works in what is known as the stealth mode that never shows any activity on the employees' Mac screen. EaseMon also uses constant reporting option which helps the software to send regular reports to the employer without hampering the Internet connectivity or the Mac operation of an employee.
Plus, this software is very easy to set up in a Mac OS X oriented computer. The EaseMon developer team has exclusively made this software easy to use so that you do not have to go through a lot of hassle to get your perfect worker monitoring system ready to go.
Security Ensured
Besides monitoring the productivity level of your employees, EaseMon, the most effective and best computer monitoring software for business, also ensures that your Internal network remains safe and secure from unwanted data access. To help you out, this software sends you an emergency alert report when a certain keyword is typed or a certain action is executed by any of your employees. This program also provides you the power to remotely control the activity of any employee Mac within your parameter right from your desk. You can simply visit the EaseMon website here to order a demo of this product and see it live in action.
Get your Demo of Easemon Monitoring Software Now
EaseMon team is currently offering a demo version to all the interested employees who are serious about taking their employee productivity to the next level. All you need to do is contact them via their website and send them details about your company size and what kind of monitoring service you require from the experts at EaseMon. If you are currently paying too much to your employees and thinking of getting a grip on them, then you should take a chance with the best computer monitoring software for small and corporate businesses.
---
If you plan to increase employee efficiency and reduce unnecessary cost, EaseMon, the best Mac OS X monitoring software for all businesses, can be your top choice!
Tags: best computer monitoring software for businesses, best employee computer monitoring software for mac, best Mac OS X monitoring software for businesses, easemon employee monitor for mac, office computer activity monitoring software
Category: Articles and Tips