Aobo Remote Keylogger for Mac OS X
Aobo Keylogger for Mac is a professional remote keylogger for Mac OS X which can be used to keep tabs on the detailed activities on the target Mac computers such as invisibly recording keystrokes, websites, chat conversations, social networks, email contents composed, taking screenshots and much more. All these activities are under your control because you are able to check all logs remotely via your Email or FTP.
Features of Aobo Remote Keylogger for Mac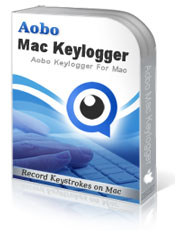 Remotely and invisibly monitor all activities
keystrokes and Passwords typed on Mac
Log passwords typed (Professional edition only)
Log visited websites in Firefox/Chrome/Safari
Log chats on MSN/Skype/AIM/Adium/iChat
Take desktop screenshots at a preset interval
Remotely check all logs by Emails or FTP
Password protection and customizable hotkey
Easy to install and use on Mac
What Can You Do with Aobo Remote Keylogger for Mac?
Tell you what the Mac user searched online, what they typed on Mac…
The remote Mac keylogger logs all keystrokes that are typed on the Mac, so you are allowed to know what the Mac user typed in the search bar, what they are interested in and what they were written on Mac. Thus, parents or employers may easily the basic activities on Mac.
Keep tabs on the web visits and online chats to protect your kids or others
Aobo Remote Keylogger for Mac OS X logs the websites visited in Firefox/Google Chrome/Internet Explorer, so the web pages viewed, videos watched, and games played online will be recorded in detail. Besides, outgoing and incoming chat conversations in some popular chat software.
Monitor social networking activities like Facebook, Twitter, or YouTube…
The keylogger for Mac logs the posts, comments, messages typed on social networks like Facebook, Twitter, or YouTube. And all social networking sites visited can be logged as well. What's more, Aobo remote keylogger for Mac professional edition can record the passwords even typed in hidden characters, so you can also keep a close eye on the user accounts of the social networks.
More Features of Remote Keylogger for Mac…
When it comes to keeping track of someone's activities on a computer, a remote keylogger is absolutely needed. In this modern society, the Internet or high-tech electronic products are widely used by people worldwide, but more people abuse them. As we all know that teens or employees are averse if they find they are monitored by parents or employers. Therefore, it is important to use a remote keylogger for Mac if you want to monitor your kids, employees or someone else on Mac without attracting any attention.
What Is a Remote Keylogger for Mac
At present, remote Keyloggers for Mac cannot be remotely installed, but they have the feature of remote log viewing. Remote Keylogger Mac delivers the logs and screenshots at set intervals to a specified Email address or FTP account set by the user who configured the Remote Keylogger Mac.
Remote Keylogger Mac is an invisible application running on your Mac with the purpose of recording typed keystrokes. Some advanced Remote Keyloggers Mac log more than others do. For example, Aobo Remote Keylogger Mac records websites visited in Safari, Firefox, and Chrome. Both-side chat conversations from Skype, AIM, iChat, MSN and Adium, desktop screenshots and IP addresses of monitored Mac can also be tracked by Aobo Remote Keylogger Mac.
No matter how far the targeted Mac is, the person who installed and configured Remote Spy Software for Mac can check logs of keystrokes, websites, chats, screenshots, and IP address information remotely with an Internet-connected device, for example, iPhone, iPad, Apple Mac and Windows PC by receiving Emails or connecting to preset FTP space.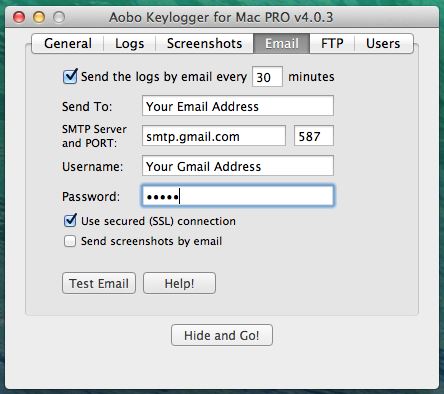 Remote Keylogger Download
Typically, when we talk about Remote Keylogger Download, we always refer to software Remote keylogger Download. Generally, a remote keylogger can be classified into software and hardware-based. As mentioned, software Remote Keylogger Download solutions can track every typed keystroke detail and other keyboard typing activities performed on the target computer system, including passwords, keystrokes, websites browsed, desktop snapshots, and IM chat conversations, in a different location.
Download Remote Keylogger to Achieve Remote Monitoring
Download Remote Keylogger achieves remotely monitoring by uploading logs to a website or FTP account where you can view or download the log reports which also can be sent to an email address for later viewing.
There are many Remote Keylogger Download websites available, but then how to choose the best Remote Keylogger Download? The following are key points of choosing a Remote Keylogger Download.
Easy-to-Get Remote Keylogger Download
Different from a hardware remote keylogger solution that spends days to delivery to you, however, Remote Keylogger software is a much more easy-to-get solution. If you want to Download Remote Keylogger for a free trial, just go to the page of Remote Keylogger Download and then you are able to download remote keylogger directly without any other steps. Immediate downloading will be successful with just one click away.
Free Remote Keylogger Download
The best Remote Keylogger Download provides the user with a free trial copy so that you can try out before the purchase. The Free Remote Keylogger Download allows you to enjoy the monitoring for free. Thus, you can keep a watchful eye on the computer activities of your family or your company.
Safe Remote Keylogger Download
There are always security issues related to Download Remote Keylogger onto your computers especially home and company devices. Yet, Micro Keylogger has always been impressed with a Safe Remote Keylogger Download by both media and customers. It has been awarded as 100% safe and clean keylogger software by CNET. Remote Keylogger Download is guaranteed as virus-free and hacker-safe.
Download Remote Keylogger now! Don't leave yourself in the case of worrying your child is meeting bad guys on the Internet, suspecting your kids are cheating on you, or wondering if your coworker is abusing your equipment, time as well as money. For most people, Download Remote Keylogger that can run stealthily provides the best combination of desired results, ease, and safety of use and the undetectable obtainment of information.
---
Aobo Remote Keylogger for Mac can be very useful for parents and employers. Aobo Remote Keylogger Mac helps you monitor your kids' Mac computer use when your kids are at boarding school. But, you can not monitor your kids to discover the truth at home when your kids are on a long-time and far-away trip. The Remote Spy Software on your Mac starts working in stealth mode as your kids' logins. No signs, no popup. With Remote Spy Software for Mac, you can easily and remotely monitor the person who uses your Mac.