Aobo Mac OS X Keylogger Professional Edition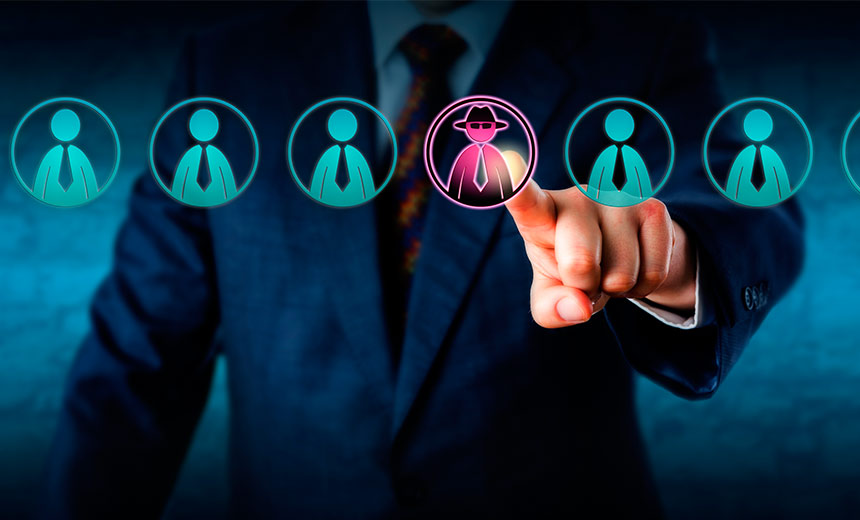 Aobo Mac OS X Keylogger is the best keylogger spy software for recording keystrokes typed on Mac OS X machine. It records keystrokes on any applications and sends the logs to you by email/FTP.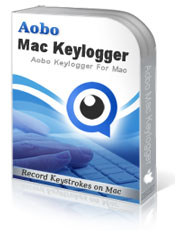 Key features of Aobo Mac OS X Keylogger Professional:
Record Passwords typed in websites & applications
Record Keystrokes typed in websites & applications
Capture desktop screenshots by interval
Log websites visited and chat conversations
Track the location of Mac laptop by IP address
Work in complete stealth mode
Send all logs by email or FTP space
Password protection and hot key access
Administrator password needed to install
Aobo Mac OS X Keylogger is the best ideal key logger software for all Mac users. Its Professional edition provides more powerful and extensive recording functions that allow you to record all things including All Passwords Typed on the Mac machines. Now let's look at some details about what the Aobo Mac Keylogger Pro can do for you.
What Can You Do with Aobo Mac OS X Keylogger?

Responsible Parents – Keep Your Children Safe Online
If you are responsible parents, you certainly want to know what your child often does, and who they usually chat with on the Internet and more. The Internet brings us advantages but as well as disadvantages. Hackers, porn websites on the Internet do great harm to your children. With Aobo Mac Keylogger, you can watch their every move on the Mac, so you can look out for signs of bad behavior online and then guide them surf the Internet timely.

Astute Managers – Monitor Your Employees
Do you want to find out what your employees do on working time every day? Are they working or playing with the company Internet? Or do they leak out some important information to others? Of course, astute managers want to know every move about their employees and they can monitor them to improve the efficiency of their work. Aobo Mac Keylogger helps you monitor and supervise all their activity on the Mac, so you can find out all things they often do online.
Careless Users – Get Your Lost Mac Laptop Back
Security is a big problem for us nowadays. Lots of important documents are saved in our computers. If your Mac laptop is stolen, it will be a great loss for you. But if you install a remote Mac keylogger on the Mac, then you have a chance to get your lost Mac back. Aobo Mac keylogger runs in stealth mode and sends you the keystrokes and desktop screenshots which will give you a clue to catch the thief. It also tracks the IP address of your Mac laptop so that you can trace the location of your laptop with Police assistance.
Everybody – Watch How Your MacBook/iMac/PowerPC Is Used When You Are Away
Are there other guys using your MacBook/iMac/PowerPC while you are away? Are they searching for your secret materials? With Aobo Mac OS X Keylogger, you can know whether or how others were using your Mac, and monitor all things they do on your Mac to protect your privacy.
Main Features of Aobo Mac OS X Keylogger
Take a look at the detailed features of Aobo Mac OS X Keylogger Professional edition.
Running Features
Start automatically and work invisibly
Send logs via email or FTP automatically
Pause screenshots on inactivity
Install for all users on Mac
Password protection
Customizable Hot Key
Easy to install and use
Keystrokes Recording
Record every keystroke typed on the Mac
Record the detail date and time of the keystrokes
Record the applications where the keystrokes are from.
Password Recording
Capture all kinds of passwords typed in any applications
Record typed passwords in any websites
Record the applications where the passwords are from.
Chat Conversation Recording
Record All Instant Messages, Yahoo Messenger and ICQ Chat conversations typed at your end
Record all chat conversations of Both Sides in iChat/Skype/MSN/AIM/Adium
Record Facebook chat conversations of both sides with iChat, AIM, Adium
Web Activity Recording
Record all websites visited in Safari, Firefox and Google Chrome
Record all the URLs and the timestamps of the website visiting.
Screenshot Capturing
Capture screenshot periodically
Pause recording if no activity detected
Compress all screenshots by 60% automatically
Log Delivery
All logs will be sent via email secretly and automatically
All logs will be sent to your FTP secretly and automatically
All logs can be viewed on any devices that can receive emails
Compatibility:
Support Mac OS 10.4.x, 10.5.x, 10.6.x, 10.7.x, 10.8.x
(Tiger, Leopard, Snow Leopard, Lion and Mountain Lion)
Universal build (for both Intel and Power PC)
Support MacBook/iMac/PowerPC/MacMini
Screenshots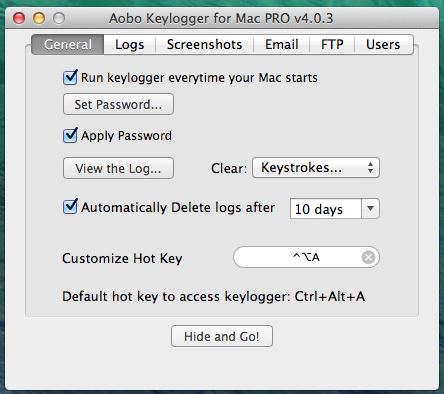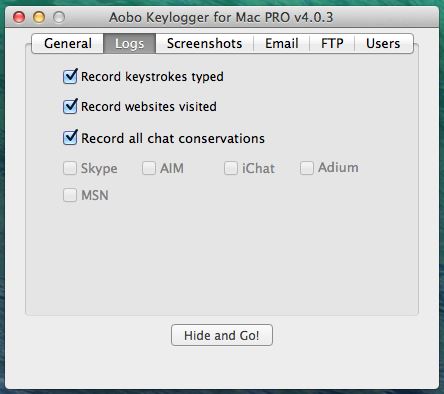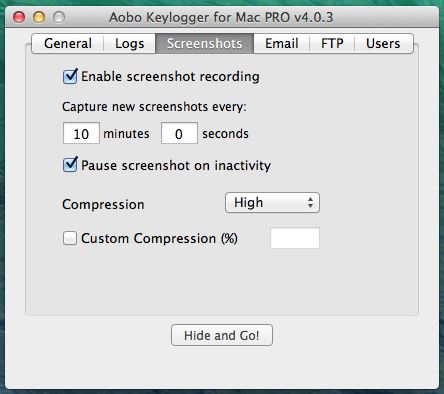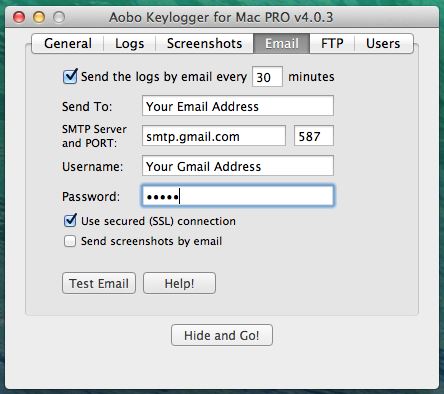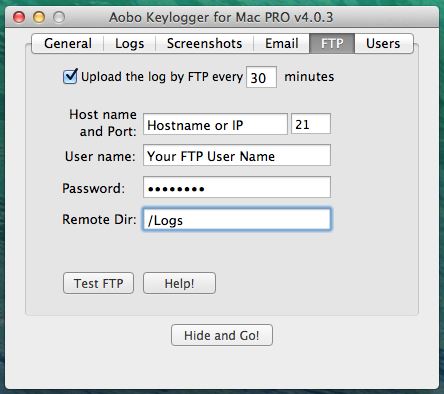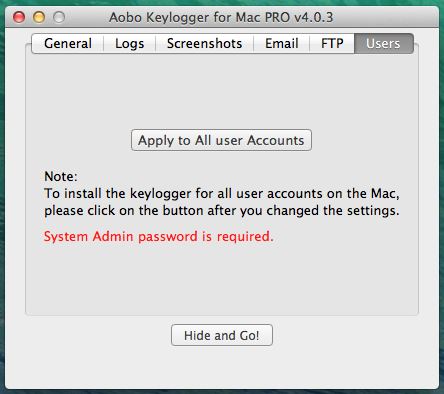 More screenshots of Aobo Mac OS X Keylogger for Mac
Click to enlarge!
Log Viewer – View Keystrokes Recorded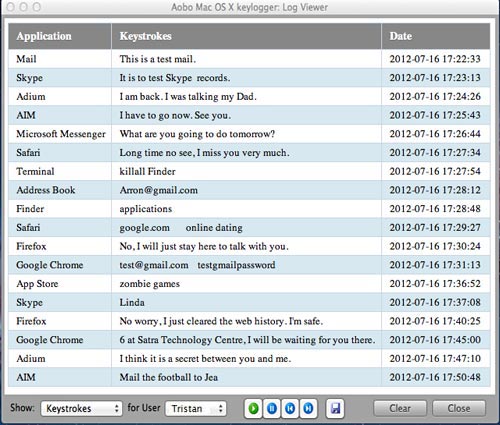 Log Viewer – View Websites Recorded in Safari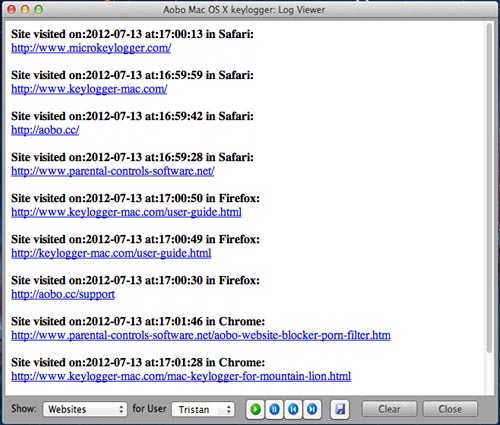 Log Viewer – View Screenshots Recorded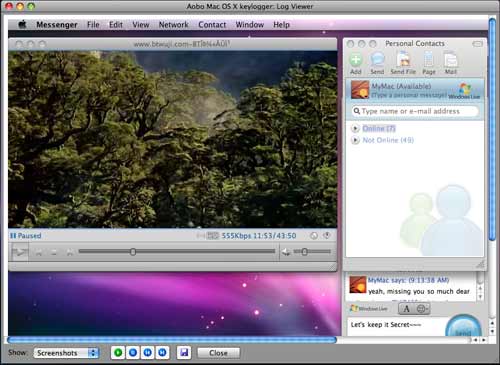 FAQs of Aobo Mac Keylogger:
1. Q: Can I install Aobo Mac OS X Keylogger on more than one Mac computer?
A: Yes, you can purchase the Family License or Volume License. You can install Aobo Mac OS X Keylogger on multiple Mac machines according the license.
2. Q: How to set the Mac Keylogger email SMTP options to receive logs by email?
Click here for email configuration examples.
3. Q: What can I get after I purchase Aobo Mac OS X Keylogger?
A: After purchase, you get the software, free technical support and 1 year free updates!
4. Q: Is my order secure?
A: Yes, our order system is the world's famous online Payment system. It is a 100% secure and hacker-safe platform.
More FAQs about Aobo Mac OS X Keylogger.
Aobo Mac OS X Keylogger offers three-day free trial with features which are the same as the paid version. You can test it on your own Mac computers before you decide to purchase it.
Tags: aobo keylogger, aobo keylogger log passwords, aobo keylogger pro, keylgoger for mac, keylogger for mac os x, Mac Keylogger, mac password recorder, password logger mac, password recorder mac, record the passwords
Category: Articles and Tips