Aobo Filter for Mac OS X Standard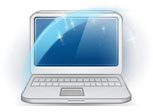 In this digital world, people can benefit a lot from the information shared on the internet. Nevertheless, the internet can also be the breeding ground for the spread of the unhealthy information. It is really essential to ensure online security.
Aobo Filter for Mac Standard is an internet filter that can block porn websites, games and applications on Mac. Also, it logs websites visited from any web browsers on your Mac, which enables you to block potentially dangerous websites handily.
Key Features of Aobo Filter for Mac Standard
Work secretly every time when the Mac starts
Block websites by adding keywords/URLs to Black List
Control Internet visits by adding URLs to white List
Block applications and games from running on Mac
Record web history even in private browsing mode
Synchronize Aobo Filter settings with FTP (Pro Only)
Customize hot key and password for protection
Apply settings to all the user accounts on a Mac
Aobo Filter for Mac Standard – Best Solution for Parental Control
Create Healthy Online Environment
In most situations, kids can easily approach porn websites and many other unhealthy websites on the internet under the stimulation of the curiosity. All those unhealthy information can distort the kids' moral value and lead them to go astray. Many parents wish their kids to learn more from the internet but they don't want kids to contact unhealthy information. The web filter offers a balance between the parents who want to filter porn websites and kids who intend to know more on the internet.

Ensure the Online Security of Kids
Many innocent kids are easily lured by some phishing websites or the so-called online friends to expose their personal information, from the home address to the bank account, which poses a potential threat to kids' security or even the whole family's security. The web filter turns out to be the access control software to help you control kids' website usage and ensure their online security.

Keep Kids Away from Game Addiction
Overindulging in the computer game, especially the violent games, can pose serious impact to kids' mental and physical development. For example, spending too much time on the computer can cause the myopia; meanwhile, your kids are more likely to deal with the problem in a simple and rude way. The internet filter can stop the application from running effectively to keep kids away from the game addiction.

Control Online Activities
The weak-willed people, especially the youth, are easily attracted by "interesting" content on the internet, such as the entertainment news or games, so that they can't focus their attention completely. Whenever you have noticed the importance of online security and have the interest to know the powerful functions Aobo Filter for Mac Standard further, you are able to filter all the undesirable content so as to control the online activities.
Special Features of Aobo Filter for Mac Standard

Block porn and other types of websites
Aobo Filter for Mac Standard will block porn websites or any other types of websites according to the keywords you add to Black list. You can add both keywords and URLs of specified websites or webpages to Blacklist and Whitelist. In this way Aobo Filter for Mac Standard will block or allow them automatically when the web browsers load them.

Block games and applications on Mac
The internet filter for Mac OS X will also block games and applications added to the App Filter list. Aobo Filter for Mac Standard doesn't give information about why these games and applications don't launch. Users won't know the games and applications are blocked.

Track web history in private browsing mode
Aobo Filter for Mac Standard records website visits in the Private Browsing mode. Any websites visited in any web browsers will be logged into web history even if Private Browsing is started. And the website history will not be deleted with the cleanup of the web browser history. It prevents smart users from hiding the web browsing activities.

Run in Stealth and Password Protected
The motivation of invisible monitoring is to protect your kids silently and secretly. After configuration, the internet blocker will work automatically in the background. In addition, Aobo Filter for Mac is password protected. Even though it is discovered, it is impossible to open the web filter unless the correct password is entered.

Export/Import Blacklist and Whitelist
The website blocker is built-in with porn keywords blacklist and whitelist. You can customize it and then export it to your Mac for backup. Once you need to re-install Aobo Filter for Mac Standard, you can easily restore the settings by importing the blacklist and whitelist from your Mac.

Super Easy to Install and Use
From the installation to the configuration, all this process can be finished with several simple clicks. Even if you are not the tech savvy, you can still use it to block the unwanted information from all users on your computer. You can apply the settings to multiple home computers easily by importing/exporting the configuration files of Aobo Filter for Mac.
User Testimonials
"Aobo Filter for Mac is really helpful.It helps me control my 12 years old son online activities. Now, I feel at ease even though I can't accompany with him. Wonderful!" – Betty
Screenshot of Aobo Filter for Mac Standard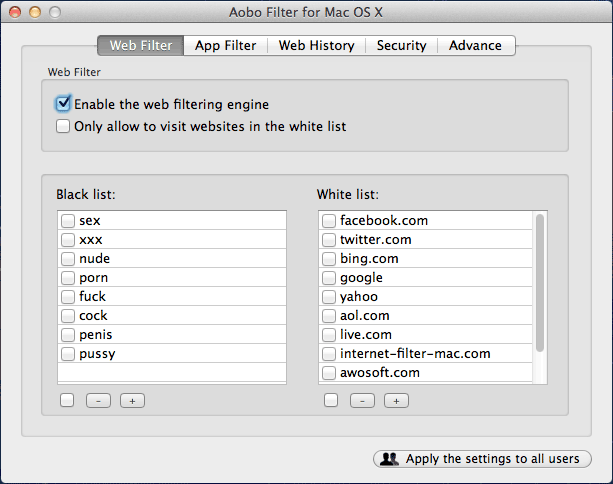 Tags: aobo filter for mac os x, block porn websites mac, filter for mac, internet filter mac, mac website filter
Category: Articles and Tips