How to remotely Spy on another PC
Before you get start to spy on PCs you must first acknowledge and agree to the fact that you are the owner of the remote PCs you wish to spy on. It is a federal and state offense to install monitoring/surveillance software on a PC of which you do not own.
Why do you want to remotely spy on another PC?
1. To know who touched your PC when you are away.
2. To know what your kids do on the internet and keep them from bad stuffs.
3. To prevent company secrets from leaking.
How to remotely spy on another PC?
Step 1.
Firstly, you need to get the reomte spy software Realtime-Spy De http://www.remote-computer-spy.com/ .
Realtime-Spy is the FIRST remotely installable monitoring solution designed to provide convenient access to the monitored PC from CUALQUIER LUGAR without the use of IP addresses and direct connections to the remote PC! It works in totally stealth and can not be detected by the user of the remote PC.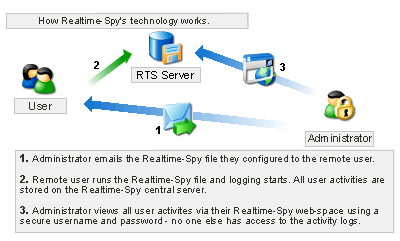 Step 2.
Create customized agent program.
Realtime-Spy comes with a configuration program that allows you to create a remote install module that you e-mail to the remote PC you wish to monitor. You must attach this file you create to an email, and then send it to the remote PC. From there the user must download and run the attached file to install Realtime-Spy. you can choose to enable or disable the usage the customized agent program.
Etiquetas: espía remoto gratis, how to spy, how to spy on another pc, how to spy on someone's computer, Realtime-Spy, Espía remoto, descargar espía remoto, descarga gratuita de espía remoto, software espía remoto, control remoto espía, spy on computer, spy on pc, spy on someone's computer, spy on someone's pc, spy software how to, Spytech Realtime-spy
Categoría: Software espía remoto